0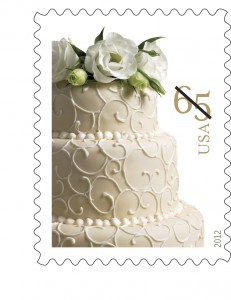 Ah, it is almost the season of love and fluttery hearts and the time of year that mixing red and pink is not only permitted – it's required.
Valentine's Day is definitely one for the DIYer, yes?  And as such, you and I should probably get crackin' on some uber sweet gifts for the ones we love.  While you work on brainstorming your list, I'm going to get down to business here, showing you the Sweet and Pretty that I've found this week.  But here's a little News to start us off:
In news that surprised us a little this week, Heidi Klum and Seal announced that they are separating.
According to one British baker, purple seems to be continuing for a cake color trend in 2012.
How's this for interesting?  The US Postal Service has issued a beautiful stamp, priced just for heavy invitations!  (It will deliver up to 2 ounces.)  And zut alors! It has a cake on it!  We feature it above, by the way.
And now for some Sweet and Pretty:
A beautiful real wedding featured on the pages of Style Me Pretty…a fabulous New Orleans Wedding.  The couple won a dream wedding from Crate and Barrel!  Oh my, but I would love a blank C&B check…
The Boho Wedding Blog did a feature this week on Manchester, UK's Cakes by Beth, and her 2012 Cake Collection. Oh my but a couple of these are sure to be featured her on AWCB.  Swoon!
I'm featuring this vintage-style California barn wedding for three reasons:  those adorable flower girls; those sumptuous chocolate cupcakes (oh my), and that INCREDIBLE barn!  Enjoy! From Inspired by This.
I decided to peak in on Heather at Sprinkle Bakes to see what she was up to…manufacturing cakes meant for heaven, that's what.  OhbutyesIwill be making this fantastic Chocolate Amaretto Crepe Cake.  Soon.
In case you missed it, Cake Boss Buddy Valastro and his lovely wife, Lisa, renewed their vows recently onboard the Disney Dream.  Sigh.  Sweetness.  Via Disney Weddings Blog.
A rainbow of bridesmaids'…Wellies?? Yes please!  Via Austin Wedding Blog.
We like it…especially the Lady A love ;-).  The top wedding songs for 2012, per GigiMasters.com, and courtesy of Borrowed and Bleu.
Pretty pink and red wedding ideas from Wedding Chicks.  I especially dig the fantastic rustic cake and the ginormous balloons!
Have a Delicious Week!
Read More:
barn weddings
,
british wedding cakes
,
buddy valastro
,
cake boss
,
cake color trends 2012
,
chocolate amaretto cakes
,
chocolate cakes
,
crate and barrel
,
crepe cakes
,
disney dream
,
heidi klum
,
heidi klum and seal divorce
,
manchester wedding cakes
,
new orleans weddings
,
pink and red wedding ideas
,
rainy weddings
,
seal
,
UK wedding cakes
,
USPS wedding cake stamp
,
vow renewal
,
wedding songs
,
wellies