0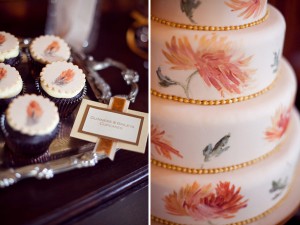 Greetings, Cake Lovers!  What is holding your attention these days?  Dreaming of hearts and pink and red?  Or are you more forward-thinking, and have you run onto green beer, or even Easter goodies?
We are counting the days until spring, well, springs, here.  And we're checking out all the beautiful inspiration that we find from the very talented community of wedding fabulosity.
So, rather than me heading off on a tangent about how many more Valentines I need to fill out, let's get down to it.  But first, we'll see about The News:
Want to get hitched on Valentine's Day en masse?  Head to Dade City, Florida's Pasco County Courthouse, where you can take place in what is growing into quite a tradition: a group wedding ceremony on Valentine's Day.
If you want to get married in church in England (well, in an Anglican Church anyway), it will cost a little bit more:  members of the Church of England Synod voted to raise the cost of a wedding, including banns,  from £296 to £415.
Oh no no no no no no yes –  Morrell Caterers of Long Island have been accused of violating Kosher laws by preparing non-kosher foods in Kosher kitchens.  This has allegedly impacted more than 200 events, including a number of weddings.
Getting married underwater? Well, sure.  Why not?
And now, for the Sweet and Pretty:
A beautiful wedding photo shoot, billed as an Irish Downton Abbey celebration…you just knew I had to feature anything with the words Downton Abbey, yes?  From One Fab Day.  And check out the exquisite handpainted cake from the shoot, from The Cloudberry Bakery, which we feature above.
Can a girl really ever have too many pompoms!?  I mean, don't you just LOVE that word?  Adore By Chloe gives us the 411 (are kids still saying that?) on how to make seriously cute pompom shoe clips.
I love this Belgian wedding, with its touches of red, featured on Parisian Party. (Seriously.  Those little boys are SO STINKIN" CUTE!)
With vintage styles continuing to be hot hot hot, Wedbits suggests glamming it up for your big day with hats for your bridesmaids.
Aaannnndddd….another post from One Fab Day.  Because we cannot resist showing you the new line from BHLDN.  Which is your fave?  Or can you pick just one?  I can't.
LOVE THIS!  DIY Menswear "get ready" shirts – from Emmaline Bride!  I may make this for everyday gettin' ready!
Have a delicious week!
Read More:
anglican church wedding price increase
,
Anthropologie
,
belgian weddings
,
BHLDN
,
bridesmaids hats
,
church of england
,
diy shoeclips
,
downton abbey
,
get ready shirts
,
getting married underwater
,
handpainted wedding cakes
,
ireland
,
kosher laws
,
morrell caterers
,
pompoms
,
red weddings
,
shoe clips
,
valentines group weddings
,
valentines weddings
,
wedding diy