structured wedding cakes
0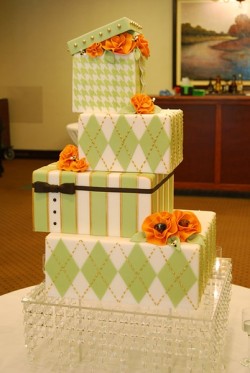 I'm in a unique state of mind this week, y'all.
This box-themed cake is incredible, don't you think?  I love everything about it.  The meticulous execution of the theme (really.  Would you know it was cake if I didn't tell you?)  The colors.  The flawless – and I do mean FLAWLESS designs of argyle, hounds tooth, and stripes.  The off-center stacking that is different than the way we usually see a wonky feature like that applied.  And how about the top "box", with the lid propped up, flowers spilling out?  I love that the cake perfectly blends masculine Read More
0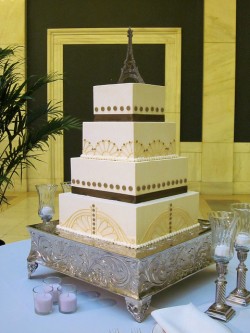 I started to make this cake a feature for Wedding Cake Topper Friday, on account that I heart Paris in the most longing way, and so of course I sighed and swooned when I saw this fabulous cake.  But honestly, the cake is so much more than that topper.  And so here it is, the star of its own post.
I'm a big fan of art deco anyway.  Have you seen Midnight in Paris?  Woody Allen's 2011 Oscar contender straddled the line between present day and 1920s Paris.  I loved it immediately, and this cake, with its art deco motif and La Tour Eiffel topper, takes me right to it.  And there's something so Read More