0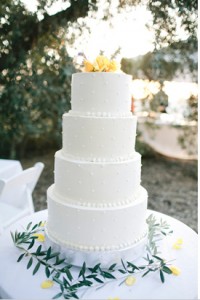 Whew!  Whirlwind Weekend here!  How's life treating you?  We're into the hustle and bustle of early summer with cookouts, soccer games, and birthday parties.  So today, we're going to take it easy with a little family time, while we show you all the latest Sweet and Pretty that we've spied.
But first, let's take a look back at all the fabulosity we shared this week right here on A Wedding Cake Blog!  Here's the Sweet:
We kicked off the week with this beautiful Yellow Ombre Buttercream Wedding Cake.  Simple and gorgeous.
Tuesday, this Brown and Sage Polka Dot Wedding Cake with Fondant Bow stole the show.
We love old-fashioned touches, like the fondant bell cutouts on this Wedding Bells Cake.
Do you love ocean-y things?  I do!  And I love Cakes by Beth, too.  We were super excited to feature her Nautical Love Cake and Cupcakes on Thursday.
On Caketopper Friday, we paid homage to the school mascots toppers with these adorable Gator Cake Toppers.
I'm playing around with christening Saturday "For the Guys" and featuring groom's cakes.  Thoughts?  This Saturday, it was this yummy, craving-inducing Waffle Cake.
Now, let's take a look at the Pretty!
It's in the little details, yes?  Austin Wedding Blog shows us some darling details, like tiny picnic baskets and margarita shots! Ah, we should would like to go to a Texas wedding.  They know how to party, y'all!
Do you have burning questions about Brad Pitt and Angelina Jolie and their engagement? No?  Well, just in case you change your mind, E! Online is here for you.
I've recently fallen completely in love with custom sashes on wedding dresses.  Check out these enchanting offering from SparkleSM, as featured on Emmaline Bride.
Don't think you can plan a stunning wedding uber fast?  Guess again, and check out Katrina and Jason's "planned in four days" wedding for inspiration.  From Offbeat Bride.
We love this rustic wedding featuring BHLDN bridesmaid dresses and the cake above

From Wedding Chicks.
Have a Delicious Week!
Read More:
BHLDN
,
brad pitt and angelina jolie engagement
,
brown and sage polka dot wedding cake
,
elopement
,
gator cake toppers
,
nautical wedding cake
,
waffle groom's cake
,
wedding bells cake
,
wedding favors
,
yellow ombre wedding cake