0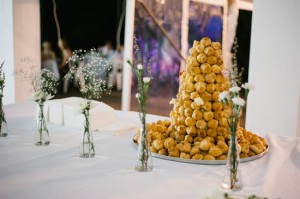 We are back from a little jaunt to the Southernmost Point in the US y'all, for one last summer hurrah before school starts!  And while I dry out and give my liver a rest, I thought I'd entertain the both of us by seeing what went on in the world of wedding while I was playing in the (almost) Caribbean!  But let's get started with a quick look back at the lovely cakes we featured this past week.
On Monday, I featured this lovely Orchid and Black Stencilled Wedding Cake.
Tuesday brought this gorgeous Yellow and Grey Chevron Wedding Cake.
I loved this Peaches Wedding Cake that we featured on Wednesday.
We featured the beautiful Sky Blue Wedding Cake with Clouds and Roses on Thursday.
On Cake Topper Friday, we just loved this Custom Cake Topper which showed some of the unique interests of bride and groom alike.
On For the Guys Saturday, what else?  A Pint Groom's Cake!
And now for some Sweet and Pretty:
Emmaline Bride gives us 12 Fun and Creative Traditional Wedding Alternatives.  Like Donuts vs. Wedding Cake

I love this Elegant and Intimate Backyard Wedding, from Polka Dot Bride.  I feature the couple's cake, a croquembouche (a traditional French wedding cake made from a tower of cream puffs), above.
A beautiful Bodega Bay wedding, featuring the most beautiful Peonies, from Style Me Pretty.
I love Broke Ass Bride's Can't Afford It/Get Over Feature.  And this one is cool for brides and non brides alike – Blinged Out Headbands Under $50!
Are Brad and Angelina finally tying the knot this weekend?
Have a Delicious Week!
Read More:
backyard wedding
,
croquembouche
,
orchid and black wedding cakes
,
peaches wedding cakes
,
pint grooms cake
,
sky blue wedding cakes
,
wedding alternatives
,
yellow and grey wedding cakes