0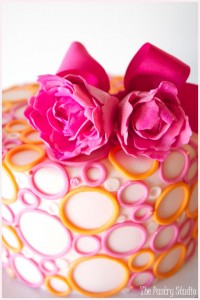 Happy Easter, Sweet Readers o' Mine!  I really hope you are enjoying this GORGEOUS spring day as much as we are!  We were up early to see what goodies awaited us in our Easter baskets, and then off to service and some fantastic family time!  So if you are taking a break from the ham, or the lamb, or the Easter egg hunt, to come see what I'm up to today, I thank you very kindly!
It's been a fun week here on A Wedding Cake Blog.  We'll start by sharing what we've been up to all week!
On Monday, we started the week with a BANG of gorgeous color, with this incredible Purple and White Wedding Cake.  One of my favorites.  EVER.
Tuesday brought us an anything-BUT-boring white wedding cake, with this Fondant and Applique White on White Wedding Cake.  A stunner.
We thought our Wednesday feature, this ravishing Pink and Orange Peonies and Buttercream Wedding Cake was fantastic…if we do say so ourselves 😉
We explored the steampunk genre on Thursday and saw firsthand how clever a Steampunk Wedding Cake could be.
Friday brought a sweet little Silhouette Cake Topper.  Sweet, sweet, adorable, sweet.
We had a party on Saturday!  And celebrated with this Confetti Wedding Cake.
And how about some Sweet and Pretty now?
Looking for affordable wedding bands?  Jewelocean.com has introduced a line of inexpensive, but high quality, bands, for the couple who don't want to spend a fortune on wedding jewelry.
HuffPo shows us 10 Mad Men-inspired wedding looks.
You know how much we love The Pastry Studio in Daytona Beach.  Sherri Meyers and her team craft some of THE most beautiful cakes we've ever seen, and I'm proud to call them friends! This pink and yellow "bubble cake" features beautiful hot pink sugar peonies! Sugar, y'all!  I thought they were real, didn't you?  It's the perfect celebration of spring and the new life that we celebrate during Easter.  So perfect, in fact, that we feature it above.
Kara Buntin of Virginia's A Cake to Remember shows us how to make darling buttercream ruffles. Beautiful…and yum!
Want to have a Florida wedding that isn't about seashells?  Kelly McWilliams of Wedding Tidbits tells you how.
Love colorful paper rosettes?  Here's a great DIY on making them, from The Broke-Ass Bride.
Have a Delicious Week!
Read More:
buttercream ruffles
,
confetti wedding cakes
,
diy paper rosettes
,
florida weddings
,
inexpensive wedding bands
,
mad men inspired wedding looks
,
peony wedding cakes
,
pink and orange wedding cakes
,
pink and yellow wedding cakes
,
purple wedding cakes
,
silhouette wedding cake topper
,
spring wedding cakes
,
steampunk wedding cakes
,
sugar peonies
,
wedding jewelry
,
white wedding cakes