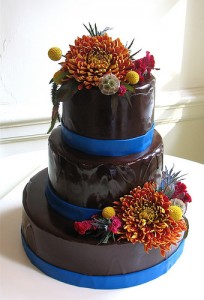 So, you'd like to make ganache, eh?  Well, here's how.
Ingredients:
12 ounces bittersweet chocolate, chopped
8 ounces heavy cream
1 tablespoon brandy or rum (optional)
Method:
Place chocolate in heatproof bowl.
Place cream in a small, heavy saucepan.  Over medium heat, bring to a boil.  Remove immediately from heat and pour over chocolate.  Let stand for 2 minutes.
Whisk chocolate and cream mixture until chocolate is fully melted.  Add liquor.
Cool.  Can be used as truffles, to pour over a cake (warm slightly until ganache is a pourable consistency), or whipped or simply spread as an icing.