0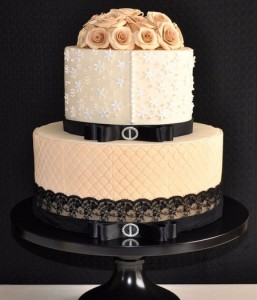 G'day mate! Today's cake comes to you all the way from Australia! No, I'm not there on vacation (although I really wish I were!) but Melania's Exquisite Cakes is located in Sydney and they are responsible for this gorgeous cake!
Vintage, Elegance, Gorgeous, Sexy, Romantic…these are all of the words that come to my mind when I think about this cake. I love how a cake can make so many statements and yet its not overpowering. A cake like this won't overtake your wedding but it will enhance it! The roses on top give it a soft, romantic, vintage feel. The black ribbon and lace give it a sophisticated, sexy, and modern feel. And the pale peach cake tiers soften the look of the black and makes it romantic.
So what are your thoughts on today's Vintage Elegance Wedding Cake?
Read More:
australian bakers
,
australian wedding cakes
,
black wedding cake
,
lace wedding cake
,
modern wedding cake
,
multi shaped wedding cakes
,
peach wedding cake
,
Roses
,
roses wedding cakes
,
small wedding cakes
,
sydney bakers
,
vintage elegance wedding cake