pink and black wedding cakes
0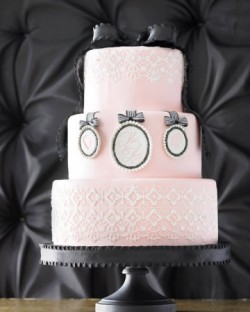 I guess I'm feeling fancy this week because I have found yet another incredibly elegant cake for you.
I used to think that I was all about tradition when it came to wedding cakes – white cakes were it. But I have to say I'm really becoming a fan of wedding cakes with color, and this pink cake with cameos is one of my new favorites. Read More
0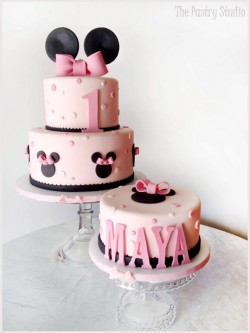 When I saw this cute-as-a-button Minnie Mouse-inspired birthday cake, I squealed like a little girl.  This was cuter than cute.  There's not a level of cute that's been invented yet that does it justice.
Sure, I know.  It's a first birthday cake.  But I live in the land of the Mouse, y'all.  So you can just imagine the copious number of Disney fangirls I know.  I'm totally serious.  They would LOVE this as a wedding cake, or for their bridesmaid luncheon.
There's somethings always so…just so about Read More
0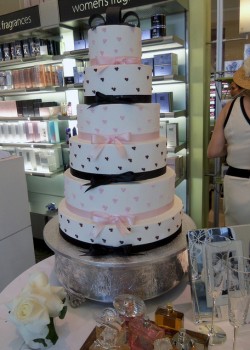 So. Clearly. This is a display cake.  I thought I'd go ahead and just out that gorilla in the room right up front.
But seriously…even surrounded by perfume bottles, and with a backdrop that is obviously retail in nature…how in the world could I refuse?  Can't you just SEE Grace Kelly striding up for a slice in a twin set, pencil skirt, and pearls?
Okay, it's just me.
If you know anything about this girl, you know that I am madly in love with anything classic, and just about all things preppy.  This cakes is all Read More