0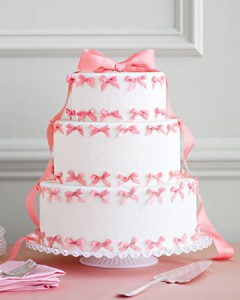 Sometimes I see simple, beautiful, easy-to-do ideas, and I think, why didn't I think of that?
I know.  You do too.
This cake is kinda like that, you know?  When I saw this, I thought it was adorable, but even more than that, I thought that it was so do-able.  Like DIY-able.  Basically, you make teeny tiny satin ribbon bows, affix them to floral wire, and stick them into the cake.  Done.
But maybe your thing isn't bows.  But you could do this with bunting.  Or butterflies.  Or heart shaped candy.  Or anything you could conceive.  That's the beauty of a plain cake…there are just so many cool ways to dress them up.
Read More:
bow wedding cakes
,
Pink wedding cakes
,
ribbon wedding cakes
,
white wedding cakes