0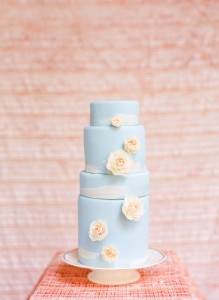 I love when I see a cake that I never, ever would have thought of, but when I see it, it's like….YESSSSS.
Isn't this just darling?  Barely different sized layers on the bottom – is there a difference in size? – and the slight diameter difference continues up the cake.  The on-purposeness of it is just enchanting.  It's like the baker said, "Yeah, I just broke like seven rules here.  What of it?"
But…but…CLOUDS!  On fondant!  And randomly-placed, barely-blush roses, just stuck right into the cake!  This is just delicious, from top to bottom and start to finish.  I have no idea if it tasted good.  But looking at it is enough for me.
Read More:
Blue Wedding Cakes
,
double height tiered wedding cakes
,
fondant wedding cakes
,
roses wedding cakes