beach wedding cake
0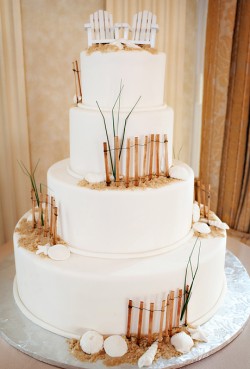 Now that we are officially celebrating all things summer, our thoughts turn to beaches and summer weddings.
Which brings me to today's beach-y wedding cake, complete with adorable mini Adirondak chairs as the cake topper.
I love the stark simplicity of the white fondant icing – it really creates a perfect palette to create lovely cake-scapes.
But what makes this cake perfect for your summer beach wedding are the incredible decorations. Read More
0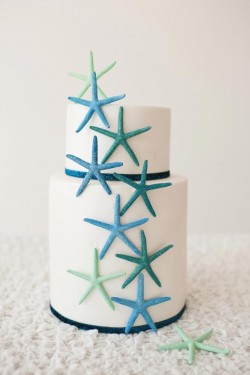 It's beachy, and it's sea glass blue and green.  That makes it perfect.
Now, while I wouldn't put actual starfish on a wedding cake, these gumpaste buddies are just the thing.  The cool colors – all greens and blues and hues in between – are some of my favorite, evoking water and calm…two things that speak to me in soft, soothing tones. The wonky ginormous bottom layer – is triple height the new Read More
0
Hi Y'all!
How's the week treating you?  Well, I hope.  We continue to do just fine here, as our calendar of visits with friends stays filled up.  We're having a glorious summer here in Florida, and we hope that you are, too.
Let's get to sharing with you all we've spied with our little eye this week.  But before that, let's review the beautiful cakes we've featured on A Wedding Cake Blog. Read More