leaf wedding cakes
0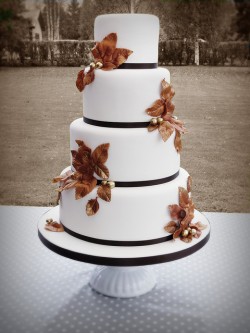 I spied this wedding cake and just had to share it with you.
We love fall weddings, don't we?  That hint of chill in the area with the glorious warmth of leaves changing, setting hills and fields ablaze with their beautiful colors.  But when you distill and dress up the essence of all of those colors, you come away with gold.  If silver is for winter, then gold is surely for fall.
To an otherwise plain, fondant-covered cake with black ribbon trim, cake artist Mina from My Read More
0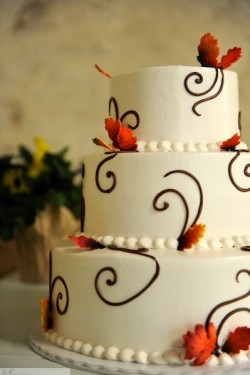 Yes, I'm aware that we both have Spring Fever, and the mention of autumn (and the thought of approaching chilly weather) might make your moan.  Still, I figure that a couple of you reading this blog may actually be planning – or at the very least, dreaming – of an autumn wedding.  And so, it seems fitting, yes?
The gumpaste leaves on this three-tiered, ever-so-slightly off white cake, are the perfect touch of warmth, and the freehand chocolate swirls give a wonderful sense of motion to the whole thing.  Can't you just picture Read More