0
Posted on October 7, 2012 by Brooke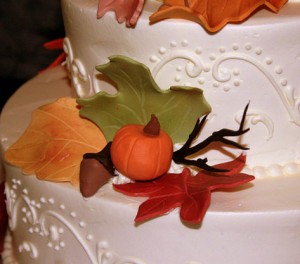 As I sit here on a rainy fall afternoon, cup of tea in hand, I confess: I'd much rather be napping than rounding up anything.  So I think today will be a short one.  Let's take a look at some sweet and pretty, and maybe a little bit o' news.
Fun or annoying?  Apparently, games are becoming more common at wedding receptions.
Anna Goldfarb's  7 Things About Weddings That I'm Totally Over.  Does your pet peeve make the list?
I am IN LOVE with this beautiful cake stand from Sarah's Stands, which is featured on Pink Cake Box's page!  Wouldn't this be just perfect for your autumn table?
YES!  Think that lime cake should be green?  WRONG!  And http://acaketorememberva.blogspot.com/2012/10/lime-cake-shouldnt-be-green.html tells you why not.
(Thanks, Kara!  Because I cringe everytime I see lime green key lime pie!)
Emmaline Bride shares with us 5 DIY Fall Desserts that are wedding party-worthy. Yum.
Have a Delicious Week!
Read More:
annoying weddings
,
artificial food coloring
,
buttercream wedding cakes
,
fall desserts
,
fall wedding cakes
,
games at weddings
,
scroll wedding cakes
,
white wedding cakes
,
wooden cake stands
Recent Posts