0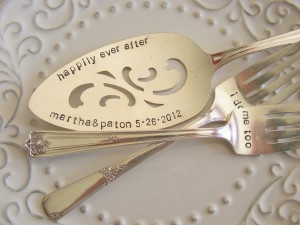 Hi There!
Oh my, but the autumn bug has officially bitten in this household!  Oh, sure.  There's some summer fun left here, and we're still wearing shorts and all, but it's actually been, well, NOT hotter than the hinges of _______ here!  And it's August.  That's pretty awesome.
This, coupled with the first apple and pumpkin recipes that are popping into my consciousness, and we've got the makings of fall, y'all.
So while I go and dream about long sleeves for my next beach trip, check out a little sweet and pretty we're roundin' up for ya.  But first, here's what we've been up to this week.
On Monday, we fell in love with pearls all over again with this Pearl Encrusted Monogram Wedding Cake.
We featured this darling Rustic Sweets Table with Pie Pops on Tuesday.
Wednesday's cake was all about causing major cravings here.  Don't you love this Homespun Wedding Cake?
I told you the fall is here.  Check out this lovely Rustic Apple Wedding Cake we showed you on Thursday.  Sensing a trend?

We fairytaled it up on Cake Topper Friday with A Princess Bride + Frog.
Hey – doesn't he deserve cake pops, too?  We think so, and these Basketball Cake Pops are just the thing, yes?
And now for a looksee into the Interwebs for some Sweet and Pretty:
From Emmaline Bride, 10 Cake Cutting Dos and Don'ts. And aren't the pics great?  I LOVE the custom cake cutter and forks, which we feature above. (Check out Baby Puppy Designs for more info on how to get your very own!)
I adore this Watercolor Wedding Stationary Suite.  Don't you?  From Once Wed.
This Pimm's Classic from Polka Dot Bride looked SO refreshing!  Don't you think so?
We don't usually show you engagement sessions, but there's just something about this one

 Vintage + Beach maybe?  From Style Me Pretty.
Have a Delicious Week!
Read More:
apple wedding cakes
,
cake cutting etiquette
,
cake pops
,
galveston engagement
,
monogram wedding cake
,
pearl wedding cake
,
pie pops
,
pimms classic
,
Rustic Wedding Cakes
,
wedding stationary