0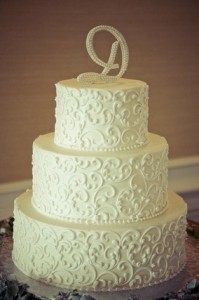 Hello, Friends and Family!  I hope that y'all survived and flourished through this holiday weekend, and you aren't in a turkey induced coma.  If you are, strap on those runnin' shoes and get out of the house!  This holiday business is a distance run, not a sprint.  We need you for the long haul.
And speaking of the long haul…don't you LOVE when we have this extra week thrown into the Christmas season?  I absolutely adore this time leading up to the beginning of Advent, since it gives me time to recover, make lists, check them twice, etc, etc, etc.
We're back in Florida — hooray! — and I'm ready to show you all the stuff I've found this week.  But first, let's recap what we've featured right here on AWCB just for you!
On Monday, I showed you this beautiful hand-painted Lavender Wedding Cake.
We went all autumn-y on you Tuesday with this darling Stacked Pumpkin Wedding Cake.
We wished you a Happy Thanksgiving with Pie on Thursday.
On Friday, we went beachy on you with these cute Flamingo Caketoppers.
Spidey?  You betcha.  For the Guys Saturday.
And now for some Sweet&Pretty:
In Wedding News, this is the last chance you have for the triple sequence anniversary.  Book your 12-12-12 wedding tout suite!
We've heard of saving the cake for a year, or even until the first child's christening…but for 25 years?  That's a new one.
In honor of the fact that I'm writing to you from just down the road from this one…a beautiful Southern Wedding that took place in Marietta, Georgia.  From A Low Country Wedding. (That's the couple's incredible cake featured above, made by Gabriel's Desserts and photographed by Kelly is Nice Photography.  I adore the pearl initial cake topper. Gorgeous.)
Emmaline Bride features 25 lovely silhouette ideas.
We couldn't agree more, Polka Dot Bride, with your Ode to Peonies.
CUTE!  Leaf Apple Pie DIY from Style Me Pretty.  Hmmm…I've been wanting to make apple pies…
Weddzilla brings us some lovely ideas for Wedding Locations in New York's Central Park.
Have a Delicious Week!
Read More:
apple pie
,
apple pie recipe
,
central park wedding locations
,
flamingo cake toppers
,
hand-painted wedding cakes
,
lavender cakes
,
pie
,
pumpkin wedding cakes
,
spiderman grooms cake
,
wedding peonies
,
wedding silhouette