0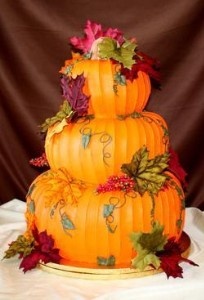 I'm a little late today, Guys and Girls. Front loading your week workwise and an 8+ hour roadtrip (with two little kids – :-O ) will tend to do that to you.
But I'm super happy to be settled into my temporary digs, and ready to share with you some Sweet and Pretty over the next few days, starting with this adorable cake.
Don't you just love fall and pumpkins?  And while we're all pretty tempted to skip right over the the fall palette and run screaming straight through to red and green, let's s-l-o-w  d-o-w-n and enjoy those burnt oranges and golds and browns.
Starting with this cake.
Isn't it darling?
This stacked pumpkin cake would be just lovely for a Sept-Oct-Nov wedding, and as we draw to a close this autumn, I thought it a befitting contribution.
The cake was crafted by Lovin Oven Cakery.  We found the image on Pinterest.
Read More:
autumn wedding cakes
,
fall wedding cakes
,
orange wedding cakes
,
pumpkin wedding cake
,
seasonal wedding cakes