romantic wedding cakes
0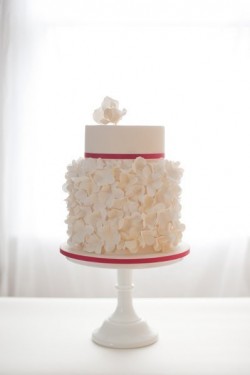 Hello, Dears!
Today, I'm starting to turn away from the sparse winterishness of January, and toward the ardent blush of Valentine's Day, which is just around the corner.
Do you celebrate?  We don't do much with it around these parts, but I love the sentiment of being sweet to everyone on V Day. It can be about romance, or you can expand the scope and make it a day to show love to all or those close to you.  Remember those fun Read More
0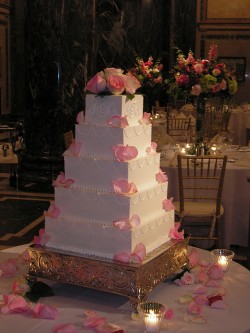 Aren't rose petals pretty?  We see them scattered on aisle cloths or lawns.  Sometimes they're strewn across the cake table (like they are here.)  But this baker goes a step further and actually puts them on the cake.
The simplicity of the vision is simple, and perfectly symmetrical, which lends a sense of calm and order to this lovely cake.  Pink roses crown the cake, and petals rest at each corner of the five graduated square layers, which are decorated meticulously with buttercream, royal icing swags, and classic white Read More
1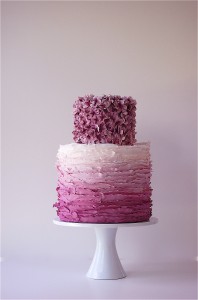 We have to end Ruffle Week 2011 with a bang…I believe that is cake is the cake to do just that.
I'm not sure there is anything more "Fall 2011″ than Ombre & Ruffles.  When you combine them, wonderful, wonderful things happen.  Like this cake from Maggie Austin Cakes. (If you'd like to know about Maggie Austin Cakes – and trust me, you do – check out this week's Round-Up for a terrific article about the artist.)
In case you have no idea what I am talking about, ombre is basically taking the same shades of one color and having the colors scale from light to dark.  We've talked about it a time or two here.  I have Read More