0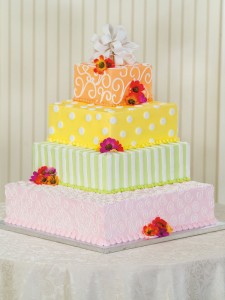 Since it seems like Mother Nature finally has her act together and has allowed spring to stay for a while, what better way to celebrate a wedding than this stunner of a cake?  I feel all springy just looking at it.
Why do I love this cake? Let me count the ways. First, it has polka dots and stripes. And the colors are so pretty together – just think of the fresh flowers you could add to the cake – gerbera daisies or little roses would be so stunning. I really love the simple beauty of the cake. It's modern and flirty and fun.
And really, aren't you happier just looking at this cake? I know I am!
Read More:
colorful wedding cakes
,
fun wedding cakes
,
pastel wedding cakes
,
polka dot wedding cakes
,
simple wedding cakes
,
striped wedding cakes
,
summer wedding cakes
,
whimsical wedding cakes