0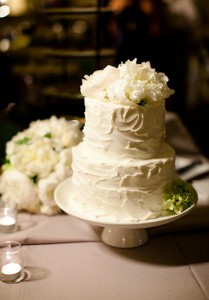 What happens when two reality TV stars get rejected on The Bachelor and The Bachelorette? They get married of course, and have a beautiful and simple wedding cake!
When I saw this cake, I admit I had to Google the "celebrities" because even though I'm a fan of ABC's The Bachelor and The Bachelorette, I didn't know who Chris Lambton and Peyton Wright were.
As it is, they were both rejected on national television and are now co-hosts of HGTV's home gardening show, Going Yard. And the happy couple was married on May 5, 2012.
This lovely two-layer white cake was their wedding cake and I absolutely love it.
There's nothing over-the-top about it – it's a white cake adorned with white flowers. It's sweet and simple and I'm certain it fit perfectly at their South Carolina wedding.
I'm not sure who the baker was for this cake, but the couple was married at the Wild Dunes Resort on the Isle of Palms with the help of wedding planner Samantha Martin.
This beautiful cake just goes to show that even though you're a celebrity your cake doesn't have to be celebrity-size.
Read More:
celebrity wedding cakes
,
simple wedding cakes
,
small wedding cakes
,
the bachelor
,
the bachelorette
,
white cakes
,
white flowers wedding cakes
,
white wedding cakes