square wedding cake
0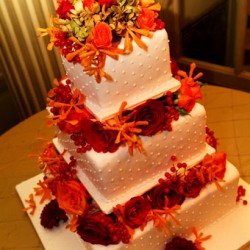 Just because there's a chill in the air doesn't mean you can't have a wedding cake that features beautiful fresh flowers.
As I think back to my own wedding cake (12 years ago!) the one element I loved most – other than the heart-shaped tiers – was the use of fresh black magic roses on the cake. Read More
0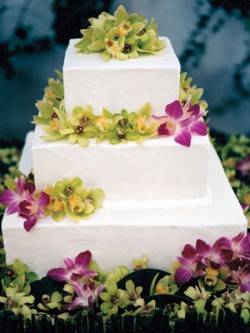 This week we're flashing back an entire decade to check out this lovely little cake from 2003.
When actress Elizabeth Banks married her beau Max Handleman at the Greystone Mansion in Beverly Hills they reportedly read love letters from their first year of dating rather than reciting vows.
Now if that isn't romantic enough, one look at their simple yet beautiful wedding cake and you know this was a spectacular affair. Read More
0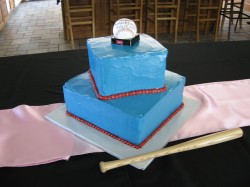 My husband really loves baseball. In a throw down featuring Christen vs. The Atlanta Braves, I am not sure who would win. With the Braves' first Spring Game with their new coach Alan Butts at the reigns coming up, my husband has been counting the minutes this week.
So in honor of baseball fans everywhere..I bring you..the Baseball Grooms Cake! I actually don't know if the bride and groom who own this cake are Braves fans, but I like to think so since the colors are blue and red. I like how this is a simple, two tiered square cake topped with a baseball. The ball is Read More