0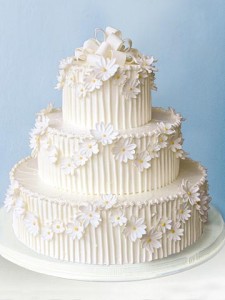 I have mentioned my love of daisies before, and since we're in the middle of the week I thought I'd share a cheery and happy daisy wedding cake again.
You can't look at daisies and not feel happy inside, so they're really a perfect flower to feature on a wedding cake. Everyone at a wedding is already smiling from ear to ear, so why not keep the happy theme going with your cake?
This three-tier cutie features some amazing meringue frosting that looks like a white picket fence (use your imagination!). And then each tier is decorated with a garland of white candied daisies.
It really doesn't get much cuter than that, does it?
And if white daisies aren't what you're looking for, I bet this cake would be just as pretty with pastel colored daisies. But I love the white daisies, even for a winter wedding.
I found this happy little cake here.
Read More:
candy flower wedding cakes
,
daisy
,
daisy wedding cakes
,
floral wedding cakes
,
sugar flowers
,
white daisy wedding cakes
,
white on white cakes
,
white wedding cakes