0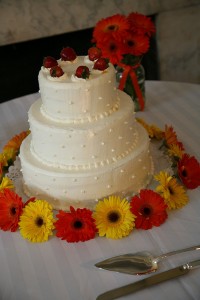 I'm all about rushing the seasons.  But you knew this.
Since today is March 1, clearly it's time for a post all about spring-into-summer, yes?
And what says spring-into-summer better than fresh strawberries and big, boldly colored gerbera daisies?  Right. Nothing.
What a sweet little cake this is. Oh, to be sure, it's simple.  But that's okay. I like simple. I also like that the flowers and the fruit do the talking here, and provide all the embellishment that you could possibly want.
So if you're excited to put away your pashmina and mittens, and embrace a warmer set of accessories — flip flops and parasols, perhaps — join me in dreaming about warmer weather. Even if you have to close your eyes and wrap your fingers around a warm mug of something to do it.
Read More:
colorful wedding cakes
,
daisies wedding cakes
,
gerbera daisies wedding cakes
,
strawberry wedding cakes
,
white wedding cakes