modern wedding cake toppers
0
If there's one thing we can't live without these days, it's our smartphones.
So you had to expect that someone would come up with a cake topper that features a bride and groom with their phones. And friends, I found that cake topper.
I have to say, it's rather adorable and I'd probably want it for my wedding cake.
I will fully admit that had I been the owner of a smartphone 11 years ago on my wedding day, I would have been updating my social networks throughout the day.
This cake topper is absolutely perfect for the always-connected, social media addicted couple. Read More
0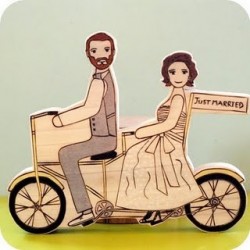 My recent fascination with all things homemade and vintage has lead me into a wonderful word of handmade Wedding Cake Toppers & that includes this beauty.
This topper makes me want to ride my bicycle barefoot with my groom singing songs about my beautiful balloon. Is that just me? Not only would it make an adorable cake topper but it would also look great on a bookshelf as a wedding day memento for years to come. I originally found this beauty on Pinterest but after some digging I discovered the Etsy store Read More