0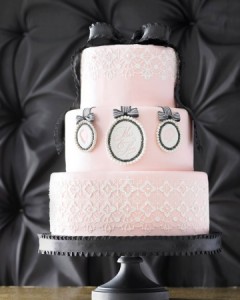 I guess I'm feeling fancy this week because I have found yet another incredibly elegant cake for you.
I used to think that I was all about tradition when it came to wedding cakes – white cakes were it. But I have to say I'm really becoming a fan of wedding cakes with color, and this pink cake with cameos is one of my new favorites.
First and foremost, the cake it a very delicate and beautiful pink hue with lace wrapped around two of the tiers. And it is topped topped with a black ribbon – well you just don't get any prettier than pink and black as a color combination. It's pretty and dramatic and works well at any time of year.
But the most beautiful aspect of this cake has to be the handmade cameos. The cameos featured on this cake are profiles of the bride and groom and they frame the center cameo which is etched with the words "Me and Thee." Isn't that romantic?
Of course, your cameos could feature anything your heart desires, which makes this a very personal wedding cake. Attached to the cake with real ribbons, the cameos take this cake from pretty in pink to pure romance and elegance.
You can find this cake here.
Read More:
black ribbons on cake
,
cameo and ribbon wedding cakes
,
cameo pendant wedding cake
,
cameo wedding cake
,
cameo wedding cakes
,
pink and black wedding cakes
,
Pink wedding cake
,
wedding cake with lace