0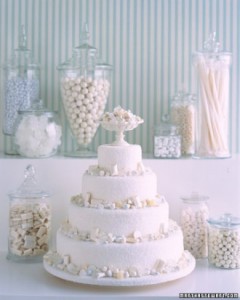 I have a serious sweet tooth and will admittedly eat just about any candy except for black licorice.
And so when I saw today's wedding cake all decked out in different types of white candy I just had to share it with you!
We've showcased cakes here before that were embellished with jelly beans and other candies, but this all-white wedding cake is perfection.
The four-tier cake is iced with white icing and then each tier is is adorned with white rock candy, gumdrops, white Jordan Almonds, and white candy wafers. It's like something out of a very sweet and sugary fairytale.
Of course if you wanted to add some pop to your version of this cake you could choose bright colored rock candy or pastel Jordan Almonds. That would be equally as lovely.
This cake would be perfect at any time of year – just be sure to choose candy that won't bleed color onto the lovely white icing. That would not be elegant.
We found this candy cake here.
Read More:
all white wedding cakes
,
candy cake
,
candy on cakes
,
spring wedding cakes
,
summer wedding cakes
,
white wedding cake