Kara Buntin
0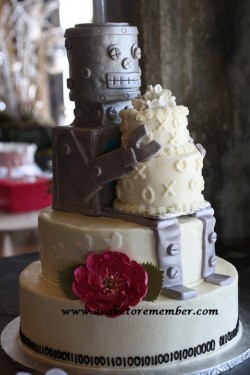 It is no secret that I love Kara Buntin of A Cake to Remember in Charlottesville  Richmond, Virginia.  She is original, she's meticulous, she's knowledgeable, she's particular, she's funny.  I learn from her blog and I'm inspired by it.
Earlier this year, Kara featured a contest for a local couple getting married.  She would make their cake, but with the (sort of) condition that she would be given some latitude artistically, to make a non-traditional wedding cake.  Later, she announced her winners, Carrie and Matt, and they got to work with the plan and design.
This original, adorable robot cake is the result.
Robots? Wedding cake?  You wouldn't think so, but it works!  Kara worked with Carrie to come up with the theme.  At first, bride Carrie wanted a traditional wedding cake and a funny groom's cake, because "that's what is done."  However, she was open to combining the two – and the theme was born!
Here is an excerpt from Kara's blog, telling a little about the couple's courtship:
"Matt hosted a Blogging/Web Development conference in May of 2009 and I attended for work. A few months later we struck up a conversation on twitter, became friends and talked (a lot) throughout the rest of the summer. In September of 2010 we went on our first date, and on September 18, 2010, one week shy of our 1-year anniversary, Matt asked me to marry him."
Mr. Robot, inspired by the Twitter technical difficulties motif, sits on top of a traditional wedding cake, and holds another diminutive wedding cake, covered with an Xs and Ox motif.  The bottom cake has birds, which represent the couple's Twitter courtship.  And because of the couple's high tech connection, the bottom tier is bordered by "Matt plus Carrie XOXO" – spelled out in binary code around the base of the cake!  Kara also brought in some softer, more traditional touches to add to the whimsy, like the off center peony on the bottom layer.
This is truly an original, beautiful cake, and what's more, it represents the couple to a T.  And THAT is the mark of an exceptional cake artist.