White Chocolate
0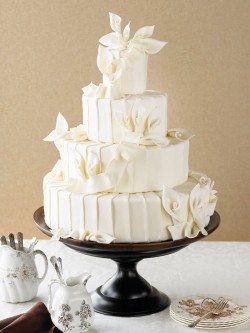 We've been featuring a lot of very colorful cakes lately, so I thought it would be nice to showcase a cake that was simple and beautiful.
Which brings us to today's all-white wedding cake.
This ivory tower is a four-tier cake decorated with white chocolate fondant. Yes, that's right. Even though it's an all-white wedding cake there's still chocolate involved!
The white chocolate fondant is elegantly pleated, giving the cake the look of a wedding dress. Read More
0
There must be something in the air this week as I'm still slightly obsessing over all things fall.
And while this cake would look great at any time of year – but would look amazing in the fall – I had to share it with you.
I found this cake while searching "DIY decorations" and perhaps a DIY wedding is not in the cards for you. However, I'm sure your baker could create some lovely leaves to wrap around your wedding cake. Read More
0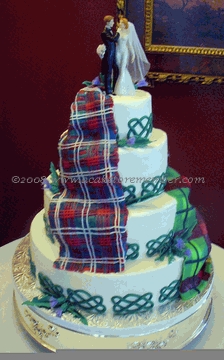 Kara Buntin of A Cake to Remember  of Richmond, Virginia, has created my Dream Wedding Cake.
What is it with me, wedding cake, and chick flicks featuring Julia Roberts?  But here we go again.
Remember that scene in "Steel Magnolias," where the ladies are discussing the wedding decorations in a Pepto-pink church?  And a demure – and very, very young – Julia Roberts remarks Read More