0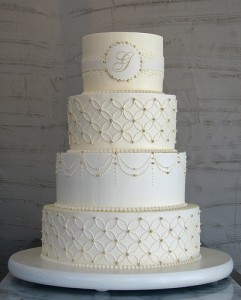 I reserve the right to file this post away under "In Christen's Wildest Dreams".
Blog Confession.  Sometimes I pretend I am the Wedding Planner for the Royal Wedding & I think about what I would suggest to Kate and Will.  Because that's what I call them because we are close and best friends.  We are also going to go skiing in the Alps in the late winter.  You know after all the commotion of the wedding dies down.  The husband and Will get along smashingly and drink pints and talk about futball while Kate and I talk wedding.  I don't even make them call me the Royal Wedding Planner Christen because we are so tight.
Are you still with me?  Back to reality.
Much like the wedding of Charles and Di I am sure that there will be MANY cakes at the Royal Wedding in April.  (Charles and Di had TWENTY-SEVEN!)  However, if I were Kate Middleton I would choose this pretty creation for the Whipped Bakeshop in Philadephia, PA.  I am sure they can hop across the pond, yes?
This cake is all class with just a little bit of whimsy mixed in.  This is a butter cream frosted cake with immaculate piping.  Seriously..look at the overlapping circles..the design is like one of those 3-D pictures that were popular in the late 90's.  I used to spend hours in front of them waiting for the Statue of Liberty or something similar to appear.  The Whipped Bakeshop's website says that the cake inside is a delicious lemon-buttermilk cake layered with fresh lemon curd and lemon curd-whipped cream and fresh raspberries.  I know that the bride and groom to be have ditched the traditional English fruitcake..to me this sounds like a fruity alternative!  The cake is covered with an Italian Meringue Buttercream.  Wow!  I am salivating.
And of course it is topped off with a very regal (royal?) monogram on the top tier.  If you ask me a "W" for Windsor would look just lovely up there!
Read More:
gold pearls wedding cake
,
lemon wedding cake
,
round wedding cake
,
royal wedding
,
royal wedding cake
,
whipped bakeshop