round wedding cake
1
Here is something I love. Taking a classic cake and giving it a little bit of pizazz! I love how this cake is a simple four tiered round cake with a gorgeous slate blue sash around the base of each tier. Beautiful and classic yes?
Oh wait:  let's throw on a gorgeous dark brown (I'm assuming chocolate which… Read More
0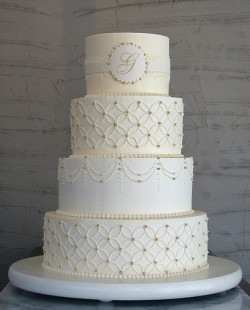 I reserve the right to file this post away under "In Christen's Wildest Dreams".
Blog Confession.  Sometimes I pretend I am the Wedding Planner for the Royal Wedding & I think about what I would suggest to Kate and Will.  Because that's what I call them because we are close and best friends.  We are also going to go skiing in the Alps in the late winter.  You know after all the commotion of the wedding dies down.  The husband and Will get along smashingly and drink pints and talk about futball while Kate and I talk wedding.  I don't even make them Read More