Savannah wedding cakes
0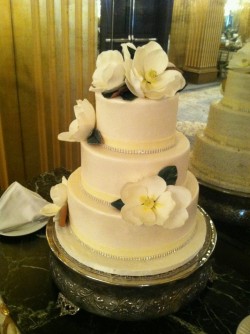 If I can't have pearls, then diamonds will do.  Agreed, girls?
This cake practically drawls at us from the computer screen, doesn't it?  Oh, how I adore Savannah!  Random?  Not really.  For this cake evokes long, slow, sultry walks on the squares, and delicious food, and beautiful architecture, and gracious people.  That's no coincidence, because this cake was created by Savannah's own Custom Cakes.
Sugar magnolias rest on a simple, classic white cake.  The base of each layer is trimmed with ivory ribbon and capped with a double strand of rhinestones, which Read More
0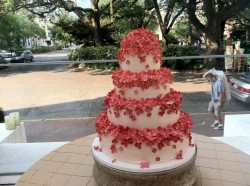 Wedding trends come and wedding trends go, but since the dawn of the Martha Stewart age, be-flowered cakes seem to be here to stay.  And I'm just fine with that.
When I saw this beautiful cake by Custom Cakes of Savannah, Georgia, I knew we had to feature it.  Four stacked tiers, covered with smooth white fondant and covered Read More