0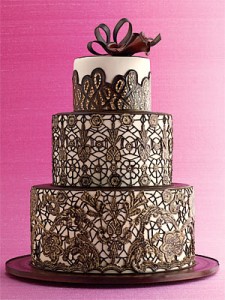 Greetings from Captiva, Florida!  I am here, just off the southwest coast of Florida, taking a much-needed (and deserved

) break with my little family.  And what a beautiful place this is!  We love Captiva and neighboring Sanibel.  If you're looking for a great getaway spot, and you favor family-friendly, gracious, and low key, I can't say enough good things about Sanibel and Captiva!  But I digress!
As usual, beautiful things are afoot in the world of wedding.  Pretty trends and helpful tips abound this week, so we want to make sure we share with you all the luscious things we've found!  So while you're enjoying your July 4th holiday weekend, spend some pretty time with us.  But first, we'll start with The News:
Prince Albert married South African Charlene Wittstock, a former Olympic swimmer, in a civil ceremony held Friday, which was followed by a traditional church ceremony yesterday, while the people of Monaco and many celebrities looked on.
In a dress that was almost as highly anticipated as Kate Middleton's, the other Kate – Kate Moss – married Jamie Hince on Friday.  The dress was designed by John Galliano.
Apparently, some budget-minded brides are opting for DIY cakes to save money.  Hubs and I were pro bakers, and we didn't take this route.  What do you think?
And now for some Sweet and Pretty, summer-style:
What is better than sangria?  A sangria-inspired wedding, that's what!  We love the vibrant colors and wonderful personal touches of Jeannette and JJ's Rancho Las Lomas wedding, featured on JoyfulWeddingsandEvents.com.
Polka Dot Bride offers a fun and practical feature on Wedding Hair Inspiration for the bride with short hair.
If the fact that bride and groom share a first name – Kyle – isn't enough to make you fall in love with this wedding, then all of the awesome monograms will.  Kyle and Kyle's wedding, courtesy of The6Chicks.com.
Another trend we can credit Catherine, Duchess of Cambridge, for:  lace wedding cakes, courtesy of Belle the Magazine.
Do I love Erin and Burke's wedding, photographed beautifully by Elizabeth of Almond Leaf Studios and full of Southern charm, because it's in one of my favoritest places ever – Old Salem, North Carolina?  Or because the colors are the same as my wedding?  Love <3
Wedding 101 gives readers a terrific run down on everything you need to about invitation etiquette.
In honor of our family vacay in Captiva, a peek at what Kelly McWilliams is up to on Wedding Tidbits:  A lovely wedding weekend on Boca Grande.  (LOVE the firepit!)
Have a delicious week!
Read More:
boca grande
,
captiva island
,
catherine duchess of cambridge
,
Charlene Wittstock
,
diy wedding cakes
,
john galliano
,
Kate Moss
,
kate moss wedding dress
,
lace wedding cakes
,
Monaco Royal Wedding
,
NC weddings
,
old salem nc
,
Prince Albert of Monaco
,
rancho las lomas
,
sangria
,
sanibel island
,
short hair brides
,
sw florida