5
I am SO excited today to bring you all our very first guest post. When I sat down to think about who should have that honor I could think of no other blogger than Blair from The Heir to Blair Blog. There she blogs about her cutie-pie son Harrison, her struggles and victories as a working mom all while balancing her family life.
However, before there was an Heir to Blair there was a man named Nate who she married five years ago today. You can tell just by reading her blog how ridiculously in love and in awe she still is with him. Today she is going to talk about picking her wedding cake and her husband's weird infatuation with six-sided shapes.
Happy Anniversary Blair and Nate, from the girls at A Wedding Cake Blog.
I know, I know….everyone says they had "the best wedding cake" but let me assure you – we had THE BEST WEDDING CAKE. Lemon with buttercream icing, none of that weird fruity layer-ness that squishes between your teeth. It was utter butter & zest & sweetness that simply melted on the tongue.
& it was homemade from a friend's kitchen.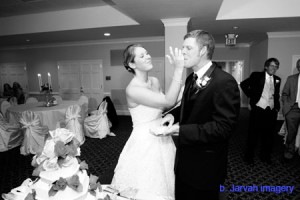 When I first began planning our 2006 wedding, I had no idea where to begin. I was one of the first of my friends to marry & both of my brothers had small, intimate weddings that would be NOTHING like the 500+ guest list of my own tulle-laden affair. While The Momma (that's my mother) flirted around with flowers & lace & excitement, I chose a plain A-line gown & opted for traditional pink roses. When it came to the cake, I had two requirements – tasty & plain.
An underground tip came through – a lady in our church made wedding cakes as her service to the church, charging only for ingredients. We knocked on her door one evening & as we flipped through wedding cake designs, she offered samplings of ameretto, lemon, chocolate, red velvet, & white. They were delicious – like the kind of delicious where your eyes roll in the back of your head & you wonder if there's a possibility you could hire her to make you a cake every week for the rest of your life, be damned the calories.
My husband had only one odd request – a hexagon cake. To this day, I still do not know why he focused on this detail, but it's kind of like how he was dead-set on a particular set of couches while he let me decorate the rest of the house on my own whims.
Lemon. Hexagon. Plain. A ribbon of green around each layer & a topping of fresh pink roses rather than a bride & groom.
It was a perfect cake.
The BEST wedding cake.
Read More:
buttercream wedding cakes
,
floral wedding cakes
,
Green Wedding Cakes
,
hexagon wedding cakes
,
lemon wedding cakes
,
roses on wedding cakes
,
the heir to blair blog
,
the heir to blair wedding
,
white wedding cakes