etsy
0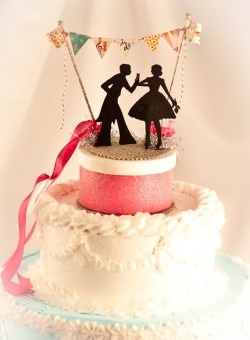 I fell in love with the concept of using a silhouette on cake when I first laid eyes on this cake by Melody Brandon of My Sweet and Saucy. I just adore the use of silhouettes on wedding cakes now and every time I see a new one I get all kinds of excited.
Oh but wait…let's double that excitement by turning it into a cake topper! I'm sorry…I have to say it. How freaking adorable is this topper? Obviously I am in love with the silhouette concept–but add the adorableness of the grooms popping the question and I'm hooked. Check out that big Read More
2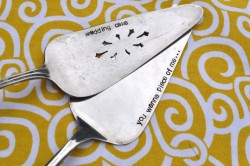 I adore when I find new Etsy shops.  I told the husband a few weeks ago that I have an Etsy and thrift store obsession.  He told me he preferred the latter because it's much cheaper until I came home with a huge plate that said "Kansas" and had a bunch of different pictures of Kansas on it.  I have never been to Read More
0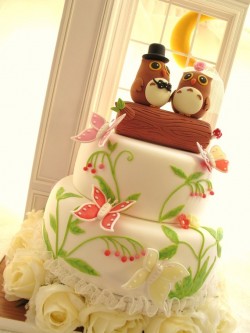 I have noticed a trend. I seem to feature cake toppers on Friday. I am not sure why but perhaps it will become my new thing!
Once again Pinterest sucked me into the world of gorgeous handmade wedding cake toppers this week and I could not escape. This week I landed at an Esty shop called Kikuike run out of Japan and the United Kingdom. This particular topper features the ever so popular owls all dressed up in their wedding best, Read More