corpse bride
0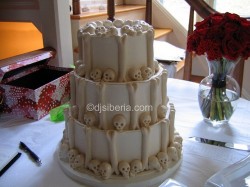 Yup, that's a wedding cake.  With skulls on it.  I think I have seen everything.
I actually filed this away for Halloween but after staring at it for a full fifteen minutes I knew I couldn't wait.  I had to share it now.
This quiet a lovely three tiered stacked round cake covered in flawless white fondant.   Adorning the sides…well we've already discussed that those are small skulls.  The vertical stripes going up the sides of the cake are actually replica bones.  The bride was actually inspired by Tim Burton's Corpse Bride.  I love how this bride took a theme she really wanted (skulls and bones) and presented them in such a classy way.  This could have Read More
0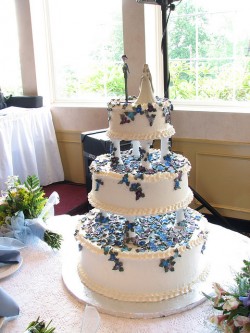 If there is one thing I love it's a cake with a story. While I don't know the bride and groom that this cake belonged to I feel that we are a kindred spirit. Why? Check out the subtle salute to Tim Burton's Corpse Bride as the toppers. Wedding?…check! Johnny Depp (ok, just his voice..but still)…check!
At first glance this looks like a lovely round three tired cake sprinkled with black and blue flowers. I'm not a overly flower girl and I think these flowers are just a perfect combination of cool with the dark colors and not too overwhelming with the random scatterings around the cake. Add the cake toppers and it adds a little bit of whimsy fun!