stacked wedding cakes
0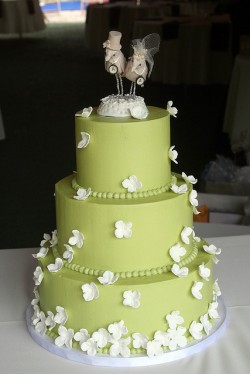 Get excited because this is a two part-er!
We have showcased hundreds of gorgeous wedding cakes on here.  The supply of amazing and gorgeous photos of cakes is limitless…but we all know those cakes didn't just appear out of thin air.  They came from somewhere.  They were made by someone who was inspired by an idea.
It's almost as exciting as the story about where babies come from.  Almost.
If you truly think about it this is your one opportunity as a bride to truly create something that symbolizes your wedding.  You wedding venue has done thousands of weddings before.  Your dress? There are probably at least a hundred other girls wearing it on your wedding day. Well, unless you are The Duchess of Cambridge of course.  Even though your baker has baked thousands of wedding cakes before.  Each every one is unique and special in their own way.  To me that makes them the most important part of your reception.
However, before you run into your baker for that wonderful tasting there are a few things you should do before choosing your baker.  This post will be in the form of a list.  Why?  Because I love lists.
1.  Research!  You're off to a good start if you're reading this.  Research is so important–because honestly you can't walk into a baker without any idea of what you want or else you'll end up with something that isn't truly yours.  While you won't actually be the one baking, sculpting, and icing, you Read More