fall tree themed cakes
0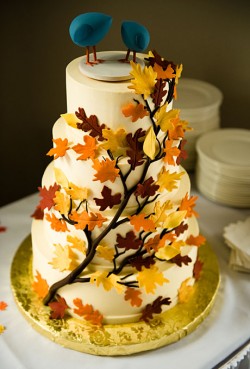 I think it's finally safe to say that fall is (really) in the air!
The air conditioning has been turned off for (hopefully) the last time until next spring, the stores are full of everything pumpkin, and the grass is covered in a carpet of brightly colored leaves.
Which brings us to this stunner of a fall wedding cake.
This cake is perfect for your fall wedding with its simple tiers and stark white icing accented by the single tree branch covered in fondant leaves.
I love the bright, vibrant fall colors of the edible leaves – the orange, yellow, and brown are just stunning and whimsical at the same time. Read More
0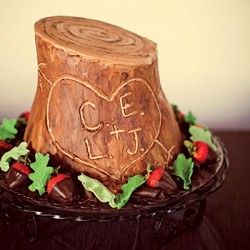 I recently attended a wedding where the bride and groom had an actual tree stump as the centerpiece on the gift table. The story was that they cut the tree down themselves and carved their initials in the trunk. It was quaint and rustic, and admittedly a little bit different. Read More
0
I'm going to answer Brooke's question from yesterday.
I celebrate Thanksgiving and Christmas to the max. From the time November 1st until January 1st I embrace as much of the holidays as possible. I know sometimes Thanksgiving can get brushed over because of the hustle and bustle of Christmas. But not in my house. My mums are blooming and pumpkins and warty gourds Read More