fall themed mini cakes
0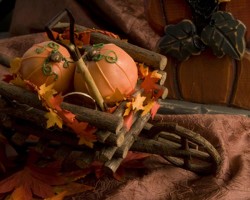 Today is the first full day of fall and I have to admit I'm completely obsessed with all things pumpkin right now.
\Maybe it's the chill in the air or the changing color of leaves, but if I could have a slice of pumpkin pie with a cup of pumpkin coffee all would be right with the world.
And then I thought how perfect pumpkins would be at a fall wedding! Read More
0
I'm going to answer Brooke's question from yesterday.
I celebrate Thanksgiving and Christmas to the max. From the time November 1st until January 1st I embrace as much of the holidays as possible. I know sometimes Thanksgiving can get brushed over because of the hustle and bustle of Christmas. But not in my house. My mums are blooming and pumpkins and warty gourds Read More