pretty wedding cakes
1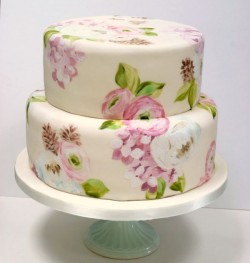 Happy Happy Spring!  That is what this cake says to me!
I found this incredibly beautiful, demure little cake on Pinterest, but it was posted there from Amelie's House (byline: "a makey-bakey-cakey place.")  I think I have found yet another UK love interest.
I LOVE pink.  I LOVE pink wedding-y things.  And painted cakes?  Are the bees' knees in my book.  Really?  Don't you just want to leave work behind today, put on a pretty Read More
0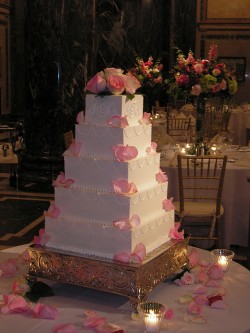 Aren't rose petals pretty?  We see them scattered on aisle cloths or lawns.  Sometimes they're strewn across the cake table (like they are here.)  But this baker goes a step further and actually puts them on the cake.
The simplicity of the vision is simple, and perfectly symmetrical, which lends a sense of calm and order to this lovely cake.  Pink roses crown the cake, and petals rest at each corner of the five graduated square layers, which are decorated meticulously with buttercream, royal icing swags, and classic white Read More