dream day cakes
0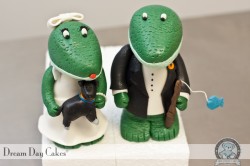 So…full disclosure:  I am not so much a Florida Gators fan, even though I live right here in Gator Country.  However, when in Rome, yes?
Aren't these darling?  These Gator cake toppers pay homage to the University of Florida mascots – and maybe the alligator that lives in your Read More
2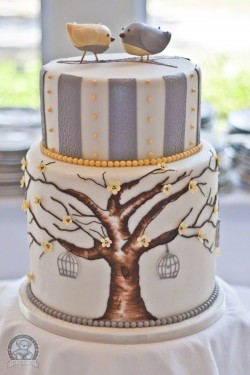 It's one thing to see a cake which features details that prove that the cake artist is well-versed in the culinary arts.  But it's quite another when the baker also proves that she is an artist in the true sense of the word.  Today's featured cake shows just such a gift.  We actually linked to this beautiful hand-painted cake by Dream Day Cakes of Gainesville, Florida, in our Let Them Eat Cake Round-Up last May, but it's so special, we thought it deserved its own post.
Notice the details:  both the tree on the bottom tier, as well as the branch that the bird cake toppers are "perched" on, were handpiped meticulously by baker and cake artist Yeni Monroy.  Fred Read More