1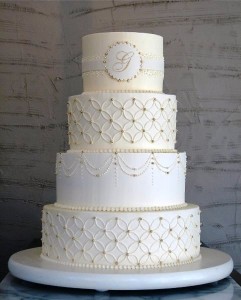 It's well documented:  I love white wedding cakes, and I love monograms.
I think it takes a special baker to make something truly original out of the sea of white wedding cakes that I view everyday.  So when I spy something out of the norm, I really like to share it with you.
This is so pretty, don't you think?  In an austere, regal, slightly stand offish and reserved kinda way.  This cake doesn't associate with the other cakes.  This lovely creation is reserved for the most formal of wedding events, the evening, black tie shindig.  I love the delicate swags and perfectly-formed overlapping circles.  The single-letter monogram, centered in the front of the top layer, does away with the need for a cake topper.
Regal.  Delicate.  Classic.  Timeless.  This beautiful cake was created by Whipped Bakeshop in Philadelphia, Pennsylvania.
Read More:
elegant wedding cakes
,
formal wedding cakes
,
monogrammed wedding cakes
,
pennsylvania wedding cakes
,
philadelphia wedding cakes
,
simple wedding cakes
,
white wedding cakes