0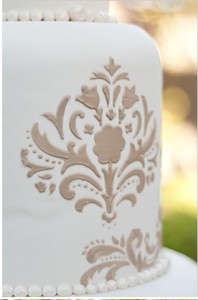 Heya Hiya! How's your weekend going? Mine is super fantabulous.
We have officially started summer here in our household (I know what the calendar says. Whatevs.) With no more schoolwork, and the beach beckoning (not to mention that fab-o hammock) it's hard to act like it isn't the Second Most Wonderful Time of the Year. So onto picnics and lazy days and flower picking. Yes please.
Before we wax all Wordsworth on you, we should probably chit chat a bit about Sweet, and Pretty, and all the stuff that brings you here to share a moment or two on a relaxing Sunday. So let's get to it! But let's start with a little recap of the cakes we've featured this week.
On Monday, Kasey featured these darling Nautical Mini Cakes.
Tuesday brought with it a scrumptious Peanut Butter Addiction Cake, which featured enough peanut butter cups that I might have a few to share. (This is totally gonna be my birthday cake this year, by the way.)
This Shades of Blue Cake that we featured on Wednesday had us swooning in the home office.
We featured this lovely Summer Garden Wedding Cake on Thursday.
Isn't this Sitting Bride and Groom Cake Topper from Friday's post adorable?
On For the Guys Saturday, we fondly remember Mardi Gras with this kickin' King's Cake.
And now, for a little Pretty:
This Washington Post article shines a light on the growing trend of weddings turning into multi-party events, and asks the question:  when is it all too much?
In this sign of the times piece, affianced couples are considering providing live video streaming of their weddings for guests and family who can't make it.  Makes sense I guess.
Good grief!  Charging copyright fees for music played at weddings – like, your private function?  Add it to the list if you're marrying in Canada.
From 3-D Memoirs, we're going to get the blog's Top 10 2012 Wedding Trends over the next ten weeks.  Number 10?  The color mint.  LOVE!  And we also love the mint chocolate cupcake!
I had to share this Beach Engagement Shoot from Polka Dot Bride…the rainbow pic alone compelled me to show you this lovely montage.
I loved the film Amelie…didn't you?  So I surely had to share this beautiful shoot with you, inspired by the adorable French film.  The cake that I feature above, by Las Vegas Custom Cakes, is from the shoot, and the post was featured by the wonderful Wedding Chicks.  Beautiful.
Read More:
amelie
,
beach engagement shoots
,
Blue Wedding Cakes
,
Bride and Groom Cake Toppers
,
canada copyright fees
,
french wedding inspiration
,
king's cake grooms cake
,
las vegas bakers
,
nautical wedding cakes
,
peanut butter cup wedding cakes
,
summer wedding cakes
,
wedding live streaming
,
wedding mini cakes
,
wedding trends