0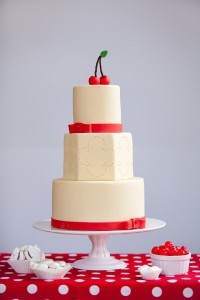 It's cherry season, y'all!  But whether it's July or November, you can feature this cake trimmed in bright red fondant ribbon and maraschino cherries, since the candied cherries are seasonless!
Isn't this darling?  Three double-height layers, and the middle hexagonal in shape, make for an adorable cake. Did you notice the cool cutout design on that middle layer?  And the pop of color from the bright red fondant trim and gumpaste cherries is so cheerful that you can't help but grin.  As if the cake weren't enough, the vintage milk glass cake stand and retro polka dot tablecloth just send me straight up.  What a fantastic picture!
If you love the beautifully detailed and adorably quirky style of Blue Note Bakery in Austin, Texas – the creators of this fantastic cake – check out our other posts by these fab folks, like this Square and Round White Wedding Cake.
Read More:
cheerful wedding cakes
,
cherry wedding cakes
,
fruit wedding cakes
,
quirky wedding cakes
,
red wedding cakes
,
texas wedding cakes
,
white wedding cakes