0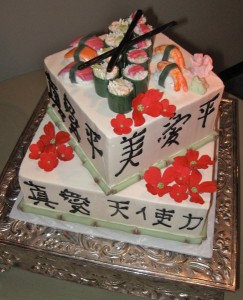 Time for another fabulous themed cake. This one falls in the "juxtaposition of things that definitely don't remind you of cake, but it's so pretty you can't help yourself" category.
I think this cake is absolutely beautiful. The Japanese characters are flawless, and the gumpaste flowers are incredibly lifelike. But the star of the show is the assortment of gumpaste sushi that adorns the top of the cake.
Wrapped in "nori" and featuring "shrimp" and "fish" you wouldn't immediately look at these delicacies and think, "Mmmm. Cake." But aren't they beautiful? They're so meticulously crafted, and a fitting tribute to a couple who shared sushi on their first date, or favor the food for whatever reason.
Do you love this sushi wedding cake? Leave us a comment and let us know!
Read More:
asian inspired wedding cakes
,
japanese inspired wedding cakes
,
red and black wedding cakes
,
red and white wedding cakes
,
red wedding cakes
,
sushi wedding cakes