0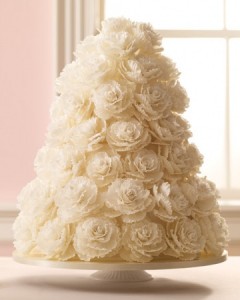 Earlier this week I featured a non-traditional chocolate cake that was stunning but certainly less-than-formal.
Today we're going in a different direction with this very beautiful and very formal white rose wedding cake.
The rose is the ultimate romance flower and the white rose signifies purity and and love. Which makes it the perfect flower to use on your wedding cake.
The three-tiered cake is covered from top to bottom in edible white roses and is so stunning and gorgeous that it needs nothing else. It's perfect as is.
This would be the ultimate centerpiece at your formal wedding, but would also work at an outdoor spring or summer wedding. And if white roses aren't your favorite flower, I'm guessing this type of cake would be stunning with red roses or even pink.
The cake was originally featured here.
Read More:
edible sugar roses
,
floral cake
,
floral wedding cake
,
Roses
,
roses wedding cakes
,
white on white wedding cakes
,
white roses
,
white roses wedding cakes
,
white wedding cakes