0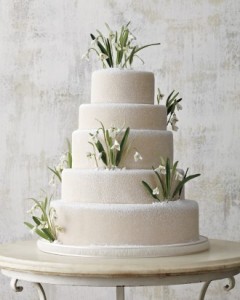 Since there are only a few weeks of winter left I decided we should feature one more winter themed dress before we go all spring-y.
And to that end, I present a white wedding cake with wintery snowdrop flowers that seem to be growing out of the tiers.
Whether you're a fan of winter or not, you have to admit this is a rather spectacular cake.
It's so pretty and elegant and it would be a stunning cake at any winter wedding.
Each tier of the cake is covered with marzipan and dusted with powdered sugar, giving it a snowy appearance. And if that isn't perfect enough, the snowdrops are created out of gum paste.
The cake looks like an elegant snow covered hilltop thanks to the powdered sugar on the tiers and the gum paste flowers add to the overall romantic theme of the cake.
Even if everyone is tired of winter by now, you have to admit that this cake might make you love winter just a little bit.
You can find this lovely winter cake here.
Read More:
gum paste flowers
,
marzipan wedding cakes
,
snowdrops
,
white wedding cakes
,
winter themed wedding cakes
,
winter wedding cakes
,
winter weddings