fresh fruit on cakes
0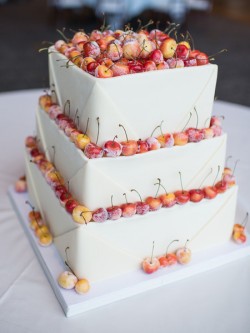 Summer is unofficially here! This means it's time for fresh fruit and gorgeous wedding cakes – sometimes mixed together.
Today's featured cake is the ideal summer wedding cake – a gorgeous white cake topped with sugar dipped cherries!
This cake is both elegant and whimsical. Take a look at the icing – it looks like envelopes on the side, folded over. Read More
0
One of my absolute favorite flavors regardless of the season is caramel.
Whether we're talking about candy or coffee or just pure caramel sauce, I can't live without out.
So imagine my excitement when I found this rustic fall wedding cake with caramel sauce! Look at this cake – it is a work of art! Read More
0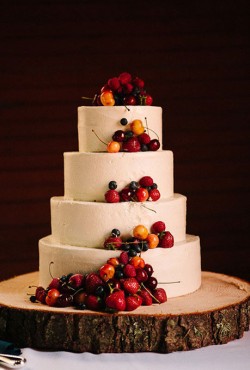 One of my favorite things about mid-to-late summer is the abundance of fresh fruit at my local market. Peaches, plums, cherries, berries, and more.
And I can't think of a better way to showcase all those gorgeous fruits than on a lovely white wedding cake!
People don't often think about using fresh fruits as an embellishment on a cake, but it really is genius. Read More