0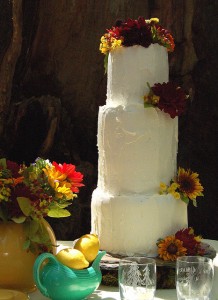 Congratulations!  You're engaged!  Now, get to it, because you've got about 8,972 details to attend to.
Now, the one that we're most interested in happens to be your cake.  Because, well, we love cake.
But, there's just one leetle problem.  There are just so. many. choices out there.
So, how are you to pick how it should look, or what it should taste like?
We think we can help with that.  You see, inspiration lies EVERYWHERE.  Think about what you love.  And build a cake around it.
Your favorite shared hobby. So you're marrying this guy, right?  Well, we're going to assume that you have some common interests since you're planning to spend your lives together.  Would they lend themselves to a cake?  We've seen cakes with cyclists and Harry Potter, with books and scrabble boards.  If you'd like to say, "Hi, World.  This is who we are, and this is some of the cool stuff we like to do together!" – well, why don't you let your cake say it instead?
Your dress.  His shoes. We lurve this idea.  You spend a fortune on your dress because you love the details, right?  Well, how fun would it be to have the very same lace or trim, or design element on your cake?  Or did he just buy the COOLEST CONVERSE EVER to wear for the wedding?  If you take a picture or a fabric swatch when you meet with your baker to discuss details, you should have no trouble replicating some cool aspect of your dream-come-true wedding dress.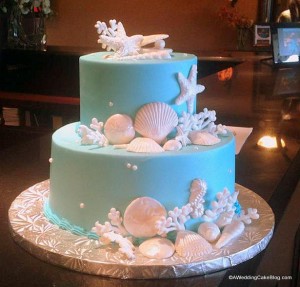 The seasons and surroundings. Getting married when there's sumptuous fall foliage surrounding you?  Perfect!  The crisp scents and sights of fall can lend excellent inspiration for your special cake – picture a towering confection, enrobed in a glossy ganache finish, and trimmed with beautiful sugar paste leaves tinted to match the colors outdoors.  Or maybe your special day will take place on a beach.  Few and far between are the designs and curlycues that can compete with the natural beauty of seashells and starfish.
So my advice?  Don't flip through thousands of pictures on Google or Martha Stewart.  Because you will be overwhelmed by the sheer volume of all that is gorgeous and out there.  Start at the beginning.  Start with yourselves, and work out from there.  In my opinion, that's the very best way to make the wedding – and the wedding cake – reflect who you are as a couple.
Read More:
sea shell wedding cakes
,
seasonal wedding cakes
,
wedding cake inspiration
,
wedding dress wedding cakes