0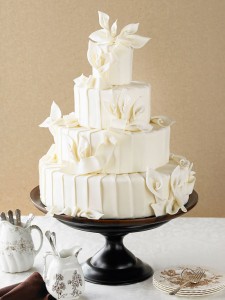 We've been featuring a lot of very colorful cakes lately, so I thought it would be nice to showcase a cake that was simple and beautiful.
Which brings us to today's all-white wedding cake.
This ivory tower is a four-tier cake decorated with white chocolate fondant. Yes, that's right. Even though it's an all-white wedding cake there's still chocolate involved!
The white chocolate fondant is elegantly pleated, giving the cake the look of a wedding dress. Take some time to really look at this cake – it does have that wedding dress look to it. I love the elegance of it all.
In addition to the pleated fondant, the cake also features white chocolate lilies and ribbons. It's like a dress and bouquet in one.
I love the simple beauty of this cake – there's no need for color or anything fussy. It's perfect as is and would be a stunning centerpiece at your elegant wedding.
You can find this beautiful all-white cake here.
Read More:
bows
,
fondant bows
,
fondant flowers
,
Lilies
,
White Chocolate
,
white chocolate cake
,
white flowers wedding cakes
,
white lilies
,
white on white cakes
,
white ribbons
,
white wedding cake