Lilies
0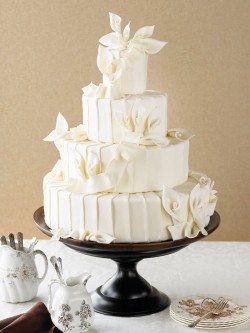 We've been featuring a lot of very colorful cakes lately, so I thought it would be nice to showcase a cake that was simple and beautiful.
Which brings us to today's all-white wedding cake.
This ivory tower is a four-tier cake decorated with white chocolate fondant. Yes, that's right. Even though it's an all-white wedding cake there's still chocolate involved!
The white chocolate fondant is elegantly pleated, giving the cake the look of a wedding dress. Read More
0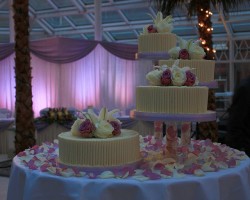 This gorgeous cake follows the trend of separated tier wedding cakes, offering the cake a wider surface area while sticking to the same amount of actual servings. Transport is also much easier, as each cake is transported in a separate box; this means that the cake still has a dramatic presentation without the dramatic "will it get there in one piece" fiasco!

I also really like the piped detail along the sides. The modern vertical lines offer a nice juxtaposition with the soft, traditional rose and lily toppers.
Finally, check out those cool cake stands! Rose petals inside!